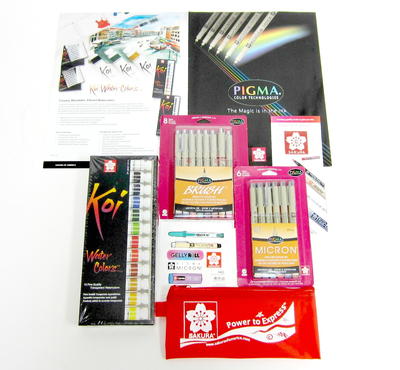 Sakura of America invented pigma ink more than 25 years ago, and the popularity of this option has not faded. Speaking of not fading, pigma ink is fade resistant! I typically draw a picture first in pencil, trace afterwards with Pigma Micron Pens, and erase the pencil lines afterwards. A vigorous erasing session results in clean inked lines that resist fading. Drawings I'd finished years ago remain sharp today with Pigma ink.
See the full review of these amazing pens
Stunning Sakura Pens and Water Colors Collection
Sponsored by: Sakura
Value: $71.37
Enter to win the Stunning Sakura Pens and Water Colors Collection! One lucky winner will win 1 Brush Tip Color Set (8 pens), 1 Micron Fine Line Color Set (6 pens), 1 set of Koi Water Colors (12 fine quality transparent watercolors), 1 pencil pouch, 1 pack of stickers, and 3 brochures. The deadline to enter is May 8, 2016 at 11:59:59 p.m. Eastern time.