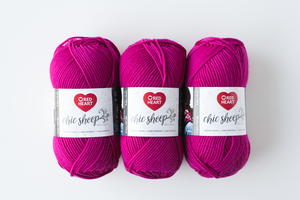 Happy 2018! I know it's been a while since we've provided giveaways to our lovely readers, but we've been spending a lot of family time over the holidays. Don't fret though, we're back and better than ever. This year we're offering you amazing products and also introducing you to some new companies. Did you know crafter Marly Bird is now collaborating with Red Heart? Yep, she has her own yarn line now (see beautiful pic to the right). OOLY is a new company we've been working with that has great products mainly directed toward kids and you're going to love it. Enter these giveaways for a chance to win!
Ending 1/21/18:
Chic Sheep Yarn Bundle Giveaway
Super Soft Baby Nest Yarn Giveaway
Peacock Feathers Yarn & Yarn Bowl Giveaway
Peony Washi Paper and Tool Kit Giveaway
Fiskars Precision Scissors Giveaway
Crystal Farm Fat Quarter Bundle Giveaway
Clover Mini Beading Loom Giveaway
FreeSpirit Holiday Homies Fabric Giveaway
Beautiful Decorative Duck Tape Giveaway
Zippy Loom Scarf Kit Giveaway
Plaid Pretty in Pink Paint Giveaway
Westcott Scissors and Glue Gun Giveaway
StarPack Silicone Kitchen Utensil Set Giveaway
Ending 1/28/18:
Washed Teal Baby Yarn Bundle Giveaway
Sweet Lavender Yarn Giveaway
Spicy Mustard Chunky Yarn Giveaway
Brilliant Crayons & Doodle Pad Duo Giveaway
Beautiful Sewn Bag DIY Kit Giveaway
Peppered Cottons Fat Quarter Bundle Giveaway
Westcott Long Nose Pliers Giveaway
Latte Super Saver Yarn Giveaway
Westcott Scissors and Cutting Mat Bundle
Rainbow Loom Bundle Giveaway
Cuisinart Stand Mixer Giveaway
Calming Adult Coloring Books and Journaling Giveaway
Bonjour Cold Brew Coffee Maker Giveaway
Which giveaways are you going to enter?