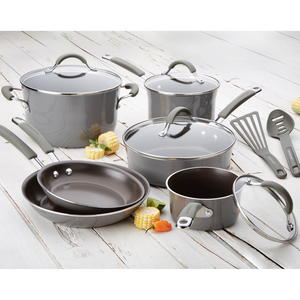 We know you had an amazing holiday season and sometimes it's just so easy to vedge out on those holiday cookies and delicious sweets, but it's time to get back at it. With the new year comes a new you and with that new you comes new products to fill your kitchen with. You're going to love the new appliances we have to offer you; there's even a little sweet treat to make you Valentine candies with.
Ending 1/28/18:
Circulon Momentum 5-Quart Dutch Oven Giveaway
Braun BrewSense Drip Coffee Maker Giveaway
Anolon Advanced 2-Quart Straining Sauce Pan Giveaway
Wusthof Classic Ikon Chef's Knife Giveaway
Microplane Home Series Cheese Grater Set Giveaway
Fiesta Classic Ceramic Square Baker Giveaway
Joseph Joseph Nest Glass Storage Set Giveaway
Rachael Ray 12-Piece Cucina Porcelain Enamel Cookware Set Giveaway
Starpack Extra Large 5-Piece Tool Set Giveaway
CDN Digital Candy Thermometer Giveaway
After treating everyone else during the holiday season, it's officially time to treat yourself. Enter each of these giveaways for a chance to win!